Massa, Felipe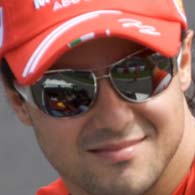 N | Felipe Massa
B |

Brasil, Sao Paulo
A | 41 (1981-04-25)
U | http://www.felipemassa.com/

More information
Felipe Massa (born in São Paulo April 25, 1981) is a Brazilian Formula One racing driver, currently employed by Scuderia Ferrari team. He finished second in the 2008 Drivers' World Championship, and is under contract to race for Scuderia Ferrari until the end of the 2010 season.
Early career
Massa, a Brazilian whose grandfather came to Brazil from the city of Cerignola, Italy, began karting when he was 8 years old, finishing fourth in his first season. He continued in national and international championships for 7 years, and in 1998 he moved into Formula Chevrolet, finishing the Brazilian championship in fifth. In the next season, he won 3 of the 10 races and took the championship. In 2000, he moved to Europe to compete in the Italian Formula Renault series, winning both the Italian and the European Formula Renault championship in the same year. Whilst having the opportunity to move into Formula 3, he opted instead for the Formula 3000 Euro-Series, and was dominant, winning 6 of the 8 races to take the championship. He was offered an F1 test with the Sauber team, who promptly signed him for 2002. In the meantime he drove for Alfa Romeo in the European Touring Car Championship as a guest driver.
Sauber (2002, 2004-2005)
In his rookie year in Formula 1, Massa was paired with 1999 F3000 champion Nick Heidfeld at the Sauber team. Massa showed he was a competitive driver, but made several mistakes during his rookie season, including spinning off the track on several occasions. Massa scored 4 championship points in his first season, with a best result of 5th place at the Spanish Grand Prix at the Circuit de Catalunya. Massa suffered a one race suspension late in the season, forcing him to miss the United States Grand Prix. Heinz-Harald Frentzen, Sauber's former driver drove for Massa in that race. Although Massa returned to the driver's seat for the Japanese Grand Prix, Sauber confirmed that Frentzen would partner Heidfeld in 2003, leaving Massa without a race seat. Instead, Massa spent a year with Sauber's engine suppliers, Ferrari, gaining experience through testing for the championship-winning team.
After gaining more experience and demonstrating that his mistake rate had declined, Sauber re-signed Massa for the 2004 season. In 2004, Massa scored 12 of Sauber's 34 points, with his best result being a fourth place finish at the Belgian Grand Prix. His teammate, Giancarlo Fisichella, scored the team's other 22 points. In 2005, Massa remained with Sauber. Although he only scored 11 points, Massa outpaced his teammate Jacques Villeneuve through most of the season, and beat him in the drivers' championship. In 2006, Massa re-joined Ferrari as a race-driver, alongside Michael Schumacher.
Ferrari 2006
Massa got a good start at Ferrari, qualifying second at the opening race in Bahrain, and coming from 21st position to 5th in Malaysia, beating teammate Michael Schumacher, who had started from 14th. However, in Bahrain, in both Saturday practice and the race, Massa seemed to resume his tendency to spin, narrowly missing eventual winner Fernando Alonso in the race. He kept up his reputation as being a bit on the wild side at the Australian GP when he crashed his Ferrari in qualifying, and then collided with Christian Klien and Nico Rosberg at the first corner of the race. However, Massa scored his first career podium at the Nürburgring, finishing third, behind Michael Schumacher and Fernando Alonso. He also set the fastest lap at Barcelona in 2006. Massa achieved four more podium finishes in 2006, in the USA, France and Germany and took his first F1 pole position and his first F1 win at the 2006 Turkish Grand Prix, at the Istanbul Park circuit. His future position at Ferrari was secured when Michael Schumacher announced on 10 September 2006, that he would retire from F1 at the end of the 2006 season. On October 22, Massa won his home grand prix at the 2006 Brazilian Grand Prix, marking the first time a Brazilian driver had won at Interlagos since Ayrton Senna in 1993. The Brazilian eventually finished the season third with 80 points, behind world champion Fernando Alonso and Ferrari teammate Michael Schumacher.
Learn More at WikiPedia
Published under the
GNU
Free Documentation License
Add message
|
samir
|
2010-10-29 15:17:02
MASSA C LE MEILLEUR PILOTE DE TOUS LES TEMP


|
lucasm
|
2010-09-27 00:42:39
Felipe é um piloto muito bom só quee ele tenque melhorar um pouco mais depois do acidente

|
Marcelo Almeida de Oliveira
|
2010-07-27 02:26:19
Que decepção MASSA.....entregar o ouro foi d+ nem era titulo nem nada faltou peitar os caras pois vc ja deu 1 titulo a ferrari em interlegas deixando o kimi ganhar....eterno n 2.

|
jeff_bbs
|
2010-03-29 14:16:40
Na Malasia o Massa vai ser lider do campeonato.

|
kennyfox18
|
2009-07-26 05:29:18
SUPPORT MASSA FOR EVER, GOD BLESS MASS. COMEBACK SOON

|
bandit21
|
2009-06-21 20:31:47
massa no possible campionne del monde f1

|
Rap Set
|
2009-06-05 17:59:27
Vai, Massa! Turquia é sua!

|
Leonardo Eugenio Martins
|
2009-04-03 17:37:04
se não se afobar ganha

|
Thiluc
|
2009-03-25 21:51:34
Acho que ele é quem está com mais possibilidade de ganhar até o momento.

You can add messages only when you are logged in
Data is being loaded...

New players (496518)
07 Aug 20:57
Notz99
07 Aug 03:46

Right-sized
06 Aug 11:57

rctanRNevVwXYgZs
06 Aug 06:29

06 Aug 06:27

06 Aug 06:26

❤️ Ashley sent you a...
06 Aug 06:26

06 Aug 06:26

06 Aug 06:24

06 Aug 06:23

Ranking drivers
Nothing found.