Kovalainen, Heikki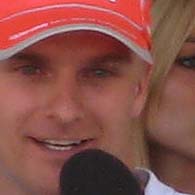 N | Heikki Kovalainen
B |

Finland, Suomussalmi
A | 40 (1981-10-19)
U | http://www.heikkikovalainen.net/

More information
Heikki Johannes Kovalainen (born October 19, 1981 in Suomussalmi, Finland) is a Finnish Formula One racing driver currently racing for the McLaren Mercedes team.
He was supported by the Renault Driver Development programme early in his racing career, during which he won the World Series by Nissan championship and finished runner-up in the GP2 series. Renault signed him on as a full-time Formula One test driver for 2006, and then promoted him to a race seat for 2007. He gained his first podium by finishing second in the Japanese Grand Prix.
He moved to McLaren for the 2008 season, where he partners Lewis Hamilton. His second season saw him achieve his first pole position at Silverstone and his first victory at Hungaroring, becoming the 100th driver to win a Formula One Grand Prix. He will stay with the team for the 2009 season.
Karting (1991-2000)
Kovalainen's career began in kart racing, much like that of many other Formula One drivers. He competed in karting from 1991 to 2000, during which time he finished runner-up in the Finnish Formula A championship in 1999 and 2000. In 2000 he won the Nordic championship and the Paris-Bercy Elf Masters event, as well as finished third in the World Formula Super A Championship, leading him to be elected as the Finnish Kart Driver of the Year.
Formula Renault (2001)
Kovalainen began his car racing career in the British Formula Renault championship, which fellow Finn Kimi Räikkönen had won the previous year before moving straight into Formula One with Sauber. Kovalainen's apprenticeship in the junior categories of motor sport was more conventional, but was remarkable in that he used Renault power at every step along the way.
He finished fourth in the championship with two wins, two pole positions, five podiums and three fastest laps, earning the Rookie of the Year award. He also took part in the Formula Three Macau Grand Prix, where he finished eighth.
Formula Three (2002)
Kovalainen attracted the support of the Renault Driver Development programme and in 2002 moved up to the British F3 series with Fortec Motorsport who used Renault engines. He became one of the most competitive drivers on the grid by the second half of the season and all five of his wins came in the final nine races. With three pole positions, three fastest laps and third overall in the championship behind Robbie Kerr and James Courtney he was again Rookie of the Year.
He also demonstrated strong form in the international F3 rounds, with second place at the Macau Grand Prix and fourth place at the Zandvoort Marlboro Masters.
Learn More at WikiPedia
Published under the
GNU
Free Documentation License
Add message

There are no messages posted yet.

You can add messages only when you are logged in
Data is being loaded...

New players (496518)
07 Aug 20:57
Notz99
07 Aug 03:46

Right-sized
06 Aug 11:57

rctanRNevVwXYgZs
06 Aug 06:29

06 Aug 06:27

06 Aug 06:26

❤️ Ashley sent you a...
06 Aug 06:26

06 Aug 06:26

06 Aug 06:24

06 Aug 06:23

Ranking drivers
Nothing found.