Button, Jenson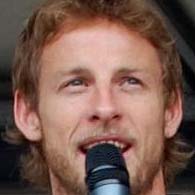 N | Jenson Button
B |

England, Frome
A | 42 (1980-01-19)
U | http://www.jensonbutton.com/

More information
Jenson Alexander Lyons Button (born 19 January 1980) is a British Formula One racing driver from England. He currently drives for the Honda Racing F1 team although he may not have a drive for next year as Honda is struggling to find a buyer for their team in the wake of the global financial crisis. He won his first Grand Prix in Hungary, on 6 August 2006 after 113 races. Button's nickname is "Jense".
Early life
Jenson Button was born in Frome, Somerset, and went to Selwood Middle School. He is the son of Simone Lyons and former Rallycross ace John Button from London (during the 1970s well-known in the UK for his so-called Colorado beetle Volkswagen and his VW-Audi dealership with Autoconti Tuning garage at Trowbridge, Wiltshire), whose best overall results was to become the runner-up in both the Embassy/RAC-MSA British Rallycross and TEAC/Lydden Rallycross championships of the year 1976. Jenson Button's parents are divorced, and he has three older sisters, Tanya, Samantha and Natasha.
Karting
Button began karting at age eight after his father bought him his first kart, and he made an extraordinarily successful start. He won all 34 races of the 1991 British Cadet Kart Championship along with the title.
Further successes followed, including three triumphs in the British Open Kart Championship. In 1997 he became the youngest driver ever to win the European Super A Championship and won the Ayrton Senna Memorial Cup as well, precipitating a move into car racing.
Formula Ford
Aged 18, he contested the British Formula Ford Championship with Haywood Racing and won the title with nine race wins. He also triumphed in the Formula Ford Festival at Brands Hatch, ahead of future Indianapolis 500 winner Dan Wheldon.
At the end of 1998 he won the annual McLaren Autosport BRDC Young Driver Award. His prize included a test in a McLaren Formula One car, which he received at the end of the following year.
Learn More at WikiPedia
Published under the
GNU
Free Documentation License
Add message

|
lucasm
|
2010-09-27 00:47:23
Eu acho que as pessoas não estão falando muito de Button é tenque melhorar mais
makaka
ate re gamo se
daleeee Button!!!

You can add messages only when you are logged in
Data is being loaded...

New players (496518)
07 Aug 20:57
Notz99
07 Aug 03:46

Right-sized
06 Aug 11:57

rctanRNevVwXYgZs
06 Aug 06:29

06 Aug 06:27

06 Aug 06:26

❤️ Ashley sent you a...
06 Aug 06:26

06 Aug 06:26

06 Aug 06:24

06 Aug 06:23

Ranking drivers
Nothing found.