Raikkonen, Kimi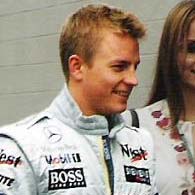 N | Kimi Raikkonen
B |

Finland, Espoo
A | 42 (1979-10-17)
U | http://www.kimiraikkonen.com/

More information
Kimi-Matias Räikkönen (pronounced [ˈkimi ˈmɑtiɑs ˈræikkønen]; born October 17, 1979 in Espoo), nicknamed Iceman, is a Finnish Formula One race car driver, currently driving for Scuderia Ferrari. He was the 2007 Formula One World Drivers' Champion.
Räikkönen entered Formula One as a regular driver for Sauber-Petronas in 2001. Having previously only raced in very junior open-wheel categories, he was given his Super Licence from the Fédération Internationale de l'Automobile (FIA) after a performance delivery promise from his team boss, Peter Sauber. He joined McLaren Mercedes in 2002, and became a title contender by finishing runner-up in the 2003 and 2005 championships to Michael Schumacher and Fernando Alonso, respectively.
Switching to Ferrari in 2007, Räikkönen became the highest paid driver in motor sport with an estimated wage of $51 million per year, in part because the previous highest paid driver Michael Schumacher had retired. In turn his move to Ferrari saw him secure his first Formula One World Drivers' Championship, beating McLaren drivers Lewis Hamilton and Fernando Alonso by one point.
Räikkönen is known to be very calm, cool, and calculating in his race strategy—prompting the nickname "Iceman", which is subtly written on the side of his current helmet design. His other nicknames include Kimppa, Räikkä and Kimster (used by his mechanics). In Finland Räikkönen is sometimes humorously nicknamed Räkä (bogey in English), a reference to Mika Häkkinen's moniker Häkä (carbon monoxide in English).
In 2008, Räikkönen is one among the two Formula One drivers who made it into the Forbes magazine's The Celebrity 100 list, the other being Fernando Alonso. He is 36th on Forbes magazine's The Celebrity 100 list of 2008, and 41st on the previous year. On the same list, as of 2008, he is listed as the 26th highest paid celebrity overall and the 5th highest paid sportsman behind Tiger Woods, David Beckham, Michael Jordan and Phil Mickelson.
Learn More at WikiPedia
Published under the
GNU
Free Documentation License
Add message

|
Dante00
|
2009-10-05 00:19:04
you rock kimi
tro for kimi
GO KIMI, GO!
forza italia

You can add messages only when you are logged in
Data is being loaded...

New players (496518)
07 Aug 20:57
Notz99
07 Aug 03:46

Right-sized
06 Aug 11:57

rctanRNevVwXYgZs
06 Aug 06:29

06 Aug 06:27

06 Aug 06:26

❤️ Ashley sent you a...
06 Aug 06:26

06 Aug 06:26

06 Aug 06:24

06 Aug 06:23

Ranking drivers
Nothing found.