Hamilton, Lewis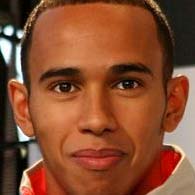 N | Lewis Hamilton
B |

England, Stevenage
A | 37 (1985-01-07)
U | http://www.lewishamilton.com/

More information
Lewis Carl Davidson Hamilton (born in Stevenage; January 7, 1985) is a British Formula One racing driver from England, currently racing for the McLaren Mercedes team and the youngest ever Formula One World Champion.
Hamilton was named after the American sprinter Carl Lewis. At the age of ten, he approached McLaren team principal, Ron Dennis, at an awards ceremony and told him "I want to race for you one day"; less than three years later, he was signed by McLaren and Mercedes-Benz to their Young Driver Support Programme. After winning the British Formula Renault, European Formula Three and GP2 championship, he became a McLaren F1 driver for 2007, making his Formula One debut 12 years after his initial encounter with Dennis. Coming from a mixed-race background, with a black father and white mother, Hamilton is often labelled "the first black driver in Formula One".
In his first season in Formula One, Hamilton set numerous rookie records and finished second in the 2007 Formula One Championship, behind Kimi Räikkönen by just one point. His first world championship was won the following season by the same margin of a single point, ahead of Felipe Massa. He has stated that he wants to stay with the McLaren team for the rest of his F1 career.
Learn More at WikiPedia
Published under the
GNU
Free Documentation License
Add message

|
Evil Empire
|
2014-03-16 07:02:13
!

|
pierre02
|
2012-08-17 14:21:39

comme alonso

|
toppertje
|
2012-03-15 23:08:56
champioen 2012

|
bandit21
|
2009-09-13 07:51:21
un des meilleurs pilote de formule 1

You can add messages only when you are logged in
Data is being loaded...

New players (496518)
07 Aug 20:57
Notz99
07 Aug 03:46

Right-sized
06 Aug 11:57

rctanRNevVwXYgZs
06 Aug 06:29

06 Aug 06:27

06 Aug 06:26

❤️ Ashley sent you a...
06 Aug 06:26

06 Aug 06:26

06 Aug 06:24

06 Aug 06:23

Ranking drivers
Nothing found.