Webber, Mark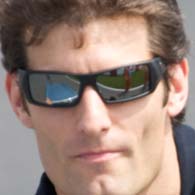 N | Mark Webber
B |

Australia, Queanbeyan
A | 45 (1976-08-27)
U | http://www.markwebber.com/

More information
Mark Alan Webber (born August 27, 1976 in Queanbeyan, New South Wales) is an Australian Formula One driver. He is the first Australian to race in Formula One since David Brabham in 1994.
After some racing success in Australia, Webber moved to the UK in 1995 to further his motorsports career. He continued to win, although he gained his biggest headlines while driving for the Mercedes-Benz sports car squad at Le Mans in 1999 where he had two spectacular accidents during practice and warmup in which an aerodynamic fault caused the car to somersault off the Mulsanne straight. After Mercedes' withdrawal from the race, Webber began a partnership with fellow Australian Paul Stoddart, at that time owner of the European Racing Formula 3000 team, which eventually took them both into Formula One when Stoddart bought the Minardi team.
Webber made his debut in Formula One in 2002, scoring Minardi's first points in three years at his and Stoddart's home race. After an impressive first season, Jaguar Racing took him on as lead driver. During two years with the generally uncompetitive team Webber several times qualified on the front two rows of the grid and outperformed his team mates. He joined the former championship winning Williams team in 2005, for whom he achieved his best finish in Formula One to date; a third place at the 2005 Monaco Grand Prix. He has since equalled his third placing at the 2007 European Grand Prix.
Webber is a keen sportsman away from the track. He has won the annual F1 Pro-Am tennis tournament in Barcelona three times and has recently set up the 'Mark Webber Pure Tasmania Challenge' trek across Tasmania to raise funds for cancer charities. During the 2008 running of the event in November, he was involved in an accident when his bicycle collided head-on with a car. He sustained a broken leg which is likely to leave him unable to take part in any of the winter testing ahead of the 2009 season.
Early career
Mark Webber was born in Queanbeyan, New South Wales, son of Alan, the local motorcycle dealer. He started his relationship with sport young, working as a ball-boy for premiership winning rugby league team the Canberra Raiders during the late 1980s. However, motorsport was where his interest lay, later listing Formula One World Champion Alain Prost and Grand Prix motorcycle racer Kevin Schwantz as his childhood heroes. Starting out racing motorcycles, Webber moved to four wheels in 1991, taking up karting at the age of 14. He won the New South Wales state championship in 1993, and moved straight into the Australian Formula Ford Championship after his father bought him an ex-Craig Lowndes Van Diemen FF1600. Working as a driving instructor at Sydney's Oran Park Raceway between races, Webber finished 14th overall in his debut season. Continuing in the series in 1995, Webber scored several victories, including a win in the support race for the Australian Grand Prix at Adelaide. He finished the series in fourth place, but perhaps more importantly, teamed up with Championship co-ordinator Ann Neal, who secured him a seven-year sponsorship with Australian Yellow Pages, and would become his manager and accompany him on a trip to England in an attempt to start a career in Europe.
Webber was given a test at Snetterton with the Van Diemen team, and subsequently earned a works drive for the team at the 1995 Formula Ford Festival, held at Brands Hatch. He finished third in his first international race, a result good enough to see him retained by the team for the 1996 Championship. Before moving to Europe permanently, Webber won the Formula Holden race at the 1996 Australian Grand Prix in Melbourne. During the 1996 British Formula Ford Championship, Webber took four victories on his way to second place overall, finishing his season strongly with a win in the Formula Ford Festival. He also won the Spa-Francorchamps race of the Formula Ford Euro Cup, taking third in the series despite competing in only two of the three rounds. His results throughout the year saw him voted as Australian motorsport's "Young Achiever" and "International Achiever" of 1996. Two days after his Festival victory, Webber completed a successful test for Alan Docking Racing, and was signed by the team to graduate to Formula Three in 1997.
Without the financial backing he had enjoyed during his time in Formula Ford, Webber and his team struggled to find the money to fund their championship campaign. He was almost forced to quit halfway through the season, but was able to obtain personal support from Australian rugby union legend David Campese, which helped him to complete the year. Webber took victory in just his fourth ever F3 race, at Brands Hatch, leading from start to finish and setting a new lap record in the process. He took a further four podium finishes, including a second place in the support race for the 1997 British Grand Prix, and finished the season in fourth overall. Webber also took strong finishes in the Marlboro Masters at Zandvoort (3rd) and the F3 Macao Grand Prix (4th), both times making his circuit debut. During the 1997 season, Webber was approached by Mercedes-AMG to participate in a sports car race. He initially declined the offer, but at the end of the year he was invited to participate in a test session for the team at A1-Ring in Austria. AMG were suitably impressed with Webber, and he was signed as the official Mercedes works junior driver for the 1998 FIA GT Championship, alongside reigning champion Bernd Schneider. Travelling around the world, including the United States, Japan and Europe, the pair won five of the ten rounds on their way to second in the overall standings, remarkably beaten to the Championship by teammates Klaus Ludwig and Ricardo Zonta by just 8 seconds in the final race at Laguna Seca.
Learn More at WikiPedia
Published under the
GNU
Free Documentation License
Add message

|
MW
|
2013-03-23 20:44:31
Mark is my hero. And for me, it'll be always the number one in my heart.
He deserves to win and be better considered.


|
lucasm
|
2010-09-27 00:41:11
Webber é um piloto muito bom seria melhor se ele fosse brasileiro

|
Fran Seymour
|
2010-05-28 15:31:03
Mark is the best! Always had faith in him! He's my no.1

|
VG POWER
|
2010-05-16 22:41:42
mag kampioen worden, hij verdiend het

|
bloembloem80
|
2009-01-31 13:23:53
ij moet wine


|
easy2play.eu
|
2009-01-24 22:06:49
a

|
easy2play.eu
|
2009-01-24 22:06:11
tja

|
easy2play.eu
|
2009-01-24 22:05:40
test

You can add messages only when you are logged in
Data is being loaded...

New players (496518)
07 Aug 20:57
Notz99
07 Aug 03:46

Right-sized
06 Aug 11:57

rctanRNevVwXYgZs
06 Aug 06:29

06 Aug 06:27

06 Aug 06:26

❤️ Ashley sent you a...
06 Aug 06:26

06 Aug 06:26

06 Aug 06:24

06 Aug 06:23

Ranking drivers
Nothing found.