Kubica, Robert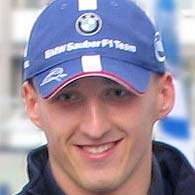 N | Robert Kubica
B |

Poland, Krakow
A | 38 (1984-12-07)
U | http://www.kubica.pl/

More information
Robert Kubica (/'rɔbɛrt ku'bitsa/ ("koo-bit-sa") listen (help·info); born: December 7, 1984 in Kraków, Poland) is the first Polish racing driver to compete in Formula One. From 2006 he has driven for the BMW Sauber F1 team, promoted from test driver to race driver during 2006. In June 2008 he achieved his maiden F1 victory in the unpredictable Canadian Grand Prix, becoming the 99th F1 racer to win a Grand Prix.
Karting
Kubica developed his love for all kinds of cars at the young age of four when he spotted a small off-road vehicle, powered by a 4 bhp petrol engine. After long talks with his parents, his father, Artur, bought him the car and young Kubica spent long hours driving around plastic bottles. When he got older it became apparent that he needed better equipment, so his father bought him a go-kart. However, Kubica was too young to start racing in the Polish Karting Championship as he was under the age of ten. When he entered the championship, he won six titles in three years. After his third season, Kubica decided to switch to a more competitive league in Italy. In 1998 Kubica became the first foreigner to win the International Italian Junior Karting Championship.
Kubica also scored second place in the European Junior Karting Championship and won the Junior Monaco Kart Cup held on part of the Formula One Grand Prix track. A year later, he defended his title in Italy and also competed in the International German Karting Championship. He also won the Monaco Kart Cup for the second time in a row, as well as the Margutti Trophy and Elf Masters races. In 2000, his last season in karting, Kubica scored fourth places in both the European and World Championships.
Junior Formulae
Kubica started his professional career in 2000, as a test driver for a Formula Renault 2000 car. During his first professional season in Formula Renault, Kubica scored his maiden pole position and also became a member of Renault's driver development programme. In 2002 Kubica won four races and scored a second place in the Italian Formula Renault 2000. He was also seventh in the Formula Renault Eurocup. At the end of the year he took part in a Brazilian Formula Renault 2000 race held at the Interlagos circuit. This one-off appearance resulted in a dominant win.
After Formula Renault, Kubica moved to the Formula Three Euro Series. However, his move was delayed by a road accident which left him with a broken arm, and titanium screws holding it together. At his delayed debut at Norisring, Kubica, driving with a plastic brace and 18 titanium bolts in his arm, won the race. He finished the season in 12th place. At the end of the year, Kubica won a street race in Sardinia and came fifth in races held in Macau and Korea. He ended his second season in the Formula 3 Euro Series, spent with the factory Mercedes team, in 7th position. In November 2004, he scored pole position in the Macau F3 Grand Prix, where he broke the lap record, but finished second in the race.
In 2005 he won the World Series by Renault championship with the Epsilon Euskadi team, earning Formula One tests with Renault.
Learn More at WikiPedia
Published under the
GNU
Free Documentation License
Add message

There are no messages posted yet.

You can add messages only when you are logged in
Data is being loaded...

Ranking drivers
Nothing found.