Vettel, Sebastian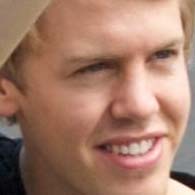 N | Sebastian Vettel
B |

Germany, Heppenheim
A | 35 (1987-07-03)
U | http://www.sebastianvettel.de/

More information
Sebastian Vettel (born July 3, 1987 in Heppenheim) is a German race car driver. He is the new Red Bull Racing team's driver replacing former driver David Coulthard.
By taking part in Friday practice for the 2006 Turkish Grand Prix, Vettel became the youngest Formula One driver to drive at a Grand Prix meeting, at 19 years and 53 days. On Sunday September 30, 2007, during the Japanese Grand Prix Vettel became the youngest driver to lead a Formula One race. (Mike Thackwell remains the youngest driver to compete in a championship Grand Prix race; Nico Rosberg the youngest to drive an F1 car in private testing.) He also became the quickest driver to get a fine in F1, being fined $1,000 nine seconds into his career, after speeding in the pitlane. He went on to become the sixth youngest driver to start a Grand Prix and the youngest driver to score points in a Grand Prix. During qualifying for the 2008 Italian Grand Prix, Vettel became the youngest Formula One driver to win pole position. He went on to win the race, making him the youngest F1 race winner by nearly a year.
Junior Series
Vettel started racing karts in 1995, winning various titles such as the Junior Monaco Kart Cup (2001). In 2003, he upgraded to open-wheel cars, and won the 2004 German Formula BMW Championship with 18 victories from 20 races.
In 2005 he drove for ASL Mucke Motorsport in the Formula Three Euroseries. He was placed fifth in the final standings with 64 points, winning the year's top rookie honours. He did not win any races, but this was largely due to the championship's domination by Lewis Hamilton. Despite, this, he tested the Williams FW27 Formula One car on September 27 as a reward for this Formula BMW success. He then went on to test for the BMW Sauber team.
Vettel finished as runner-up in the 2006 F3 Euroseries, behind series leader Paul di Resta. He also made his debut in the World Series by Renault at Misano, winning after Pastor Maldonado was disqualified. However, at the next round at Spa-Francorchamps, his finger was almost sliced off by flying débris in an accident, and he was expected to be out of racing for several weeks. However, he managed to compete in the Ultimate Masters of F3 at Zandvoort the following weekend, finishing in sixth place. He also set third fastest lap time, and it surprised his ASM team boss Frédéric Vasseur. Vasseur said: "I was impressed for sure, because at the beginning of the week I was sure he wouldn't race! But he showed good pace from the first practice session. I can't imagine he's 100 per cent but at least we know we can be competitive in the next F3 Euroseries round at the Nürburgring next weekend - that's important."
Vettel during practice at the 2006 Brazilian Grand Prix.Vettel became BMW Sauber's third driver at the 2006 Turkish Grand Prix, when former incumbent Robert Kubica was called up to replace Jacques Villeneuve for the 2006 Hungarian Grand Prix.
Vettel impressed on his testing debut by setting fastest time in second Friday Free Practice during the 2006 Turkish Grand Prix. The young German also impressed on his second testing session in the 2006 Italian Grand Prix, setting the fastest time in both Friday practice sessions, a race weekend in which all the BMW cars were quick, with his predecessor Robert Kubica finishing on the podium in the race.
He was confirmed as BMW's test driver for 2007, and also competed in the World Series by Renault Championship, where he had his first win at the Nürburgring. He was leading the championship when he was called up to F1 permanently, and his seat was taken by Michael Ammermüller.
Learn More at WikiPedia
Published under the
GNU
Free Documentation License
Add message

|
Subbusmarty
|
2011-11-17 21:27:14
How to be a f1 racer.?

|
Hugo Garces Miranda.F1...............ALONSISTA!!!!
|
2010-09-21 09:17:14
vettel no te vas a comer ni una este año .

|
Duani
|
2010-03-14 15:42:49
Go,go,go... Vettel! first \o/

You can add messages only when you are logged in
Data is being loaded...

New players (496518)
07 Aug 20:57
Notz99
07 Aug 03:46

Right-sized
06 Aug 11:57

rctanRNevVwXYgZs
06 Aug 06:29

06 Aug 06:27

06 Aug 06:26

❤️ Ashley sent you a...
06 Aug 06:26

06 Aug 06:26

06 Aug 06:24

06 Aug 06:23

Ranking drivers
Nothing found.