Glock, Timo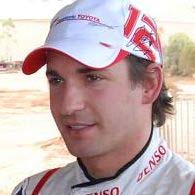 N | Timo Glock
B |

Germany, Lindenfels
A | 40 (1982-03-18)
U | http://www.timoglock.de/

More information
Timo Glock (born 18 March 1982 in Lindenfels, Germany) is a German motor racing driver. At the 2004 Canadian Grand Prix, standing in for Giorgio Pantano who had a contract dispute with Jordan Grand Prix, he joined a select group of drivers who have scored a World Championship point in their first Formula One race. He currently drives for Toyota F1 in the 2008 Formula One season
Early career
Glock began his motorsport career in 1998 at the age of 15. He won several karting championships as well as the BMW ADAC Formula Junior Cup in 2000 and the Formula BMW ADAC Championship in 2001. In his first German Formula Three Championship season in 2002, he finished third in the standings en route to rookie of the year honours. In 2003, he competed in the Formula Three Euroseries, winning three races and scoring three other podium finishes, which were enough to place him in fifth position in the Championship.
2004 Formula One
Glock was signed as Jordan Grand Prix's test driver for the 2004 Formula One Season and made his Formula One debut at the Canadian Grand Prix replacing Giorgio Pantano for one race. He finished 11th but inherited 7th following the disqualification of the Williams and Toyota cars and therefore scored two points on his debut. He finished the season with Jordan, taking over from Pantano for the last three races. Glock's sponsorship with Deutsche Post helped bring back the colours of DHL to Jordan.
2005 Champ Car
In 2005, Glock shifted his racing career to the United States, racing in the Champ Car World Series with Paul Gentilozzi's Rocketsports team. His best finish of the year was second place at the Circuit Gilles Villeneuve at the Molson Indy Montreal in Canada, where he was defeated by Oriol Servia. In the closing laps of the race Glock twice retained the lead over Servia by missing the track's final chicane. As the rules require drivers who blatantly gain or retain a position by driving off the racing surface to give way, Glock was asked to move over by Champ Car officials, and let Servia take the lead. Glock obliged midway through the final lap, giving him enough time to try and take the lead back, but to no avail. Glock went on to finish 8th in the final season points standings and win Champ Car World Series Rookie of the Year honors.
Learn More at WikiPedia
Published under the
GNU
Free Documentation License
Add message

There are no messages posted yet.

You can add messages only when you are logged in
Data is being loaded...

New players (496518)
07 Aug 20:57
Notz99
07 Aug 03:46

Right-sized
06 Aug 11:57

rctanRNevVwXYgZs
06 Aug 06:29

06 Aug 06:27

06 Aug 06:26

❤️ Ashley sent you a...
06 Aug 06:26

06 Aug 06:26

06 Aug 06:24

06 Aug 06:23

Ranking drivers
Nothing found.