Fisichella, Giancarlo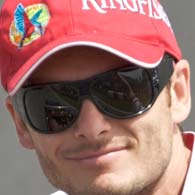 N | Giancarlo Fisichella
B |

Italy, Rome
A | 49 (1973-01-14)
U | http://www.giancarlofisichella.com/

More information
Giancarlo Fisichella (born January 14, 1973 in Rome, Italy), also known as Fisico or Fisi, is an Italian racing driver. He has driven in Formula One for Renault, Sauber, Jordan, Benetton and Minardi. He currently drives for the Force India Team.
Fisichella has won three races in his career to date, the first of which was at the chaotic 2003 Brazilian Grand Prix, a race abandoned for safety reasons with 15 laps remaining. After much confusion regarding rules and technicalities (which lasted for several days) Fisichella was eventually declared the winner in the following week, and collected his trophy in an unorthodox ceremony at the following race. He was brought in to the Renault team to replace fellow Italian Jarno Trulli, and won his first race with the team in Australia in 2005. However, after that race it was his team-mate, the Spanish driver Fernando Alonso, that would win the greater share of races for Renault. Although highly rated as a driver, Fisichella was unable to keep pace with eventual champion Alonso, managing just one further race win since his debut. Outside of driving, he runs his own GP2 team, FMS International.
Fisichella is married to Luna and they have two children, Carlotta and Christopher.
Early career
Like most current Formula One drivers, he began kart racing as a youngster. In 1992, he competed in the Italian Formula Three Championship, racing for the RC Motorsport team. He finished runner up in 1993, and in 1994 he won the championship, following race victories in Monaco and Macau. He left open-wheel racing briefly in 1995, driving for Alfa Romeo in the International Touring Car Championship.
Learn More at WikiPedia
Published under the
GNU
Free Documentation License
Add message

There are no messages posted yet.

You can add messages only when you are logged in
Data is being loaded...

New players (496518)
07 Aug 20:57
Notz99
07 Aug 03:46

Right-sized
06 Aug 11:57

rctanRNevVwXYgZs
06 Aug 06:29

06 Aug 06:27

06 Aug 06:26

❤️ Ashley sent you a...
06 Aug 06:26

06 Aug 06:26

06 Aug 06:24

06 Aug 06:23

Ranking drivers
Nothing found.