Trulli, Jarno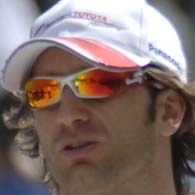 N | Jarno Trulli
B |

Italy, Pescara
A | 48 (1974-07-13)
U | http://www.jarnotrulli.com/

More information
Jarno Trulli (born July 13, 1974, age 34) is an Italian Formula One auto racing driver currently driving for the Toyota team.
Early days
Trulli was born in Pescara, Abruzzo, Italy. His parents were motorsport fans and named their son after Jarno Saarinen, the Finnish Grand Prix motorcycle racing champion who had been killed at Monza in 1973. This Finnish forename caused a certain amount of confusion when he first entered Formula One, with many not initially realising that he was Italian. His father's enthusiasm also meant that, like many successful racers, he was involved in karting from an early age.
Formula 3 and early Formula One career
After winning the Italian and then European kart championships he won the German Formula Three championship in 1996, and in 1997 made his debut in F1 with Minardi. After 7 races he replaced the injured Olivier Panis at Prost and impressed immediately, finishing fourth in Germany and even leading in Austria, looking set to finish second until his engine blew. He stayed at the Prost team for the next two seasons and eventually scored his first podium in wet conditions at the 1999 European Grand Prix. However, this was a rare highlight in a race few of the main front-runners finished, and the poor performance of the Prost team convinced him that a switch to Jordan would bring improved results.
2000-2001: Jordan
In 2000 he moved to the Irish squad, but the team was no longer the force it had been in the late 1990s. In his two years with Jordan, Trulli failed to score a podium, but did impress with a series of brilliant qualifying displays. During this period suggestions were made that Trulli was more of a qualifying specialist than an out-and-out fast race driver, a charge he frequently denied. Under long-term contract to personal manager (and Renault manager) Flavio Briatore, Trulli secured a contract with the Anglo-French squad for 2002.
Learn More at WikiPedia
Published under the
GNU
Free Documentation License
Add message

|
gubracing
|
2009-05-05 21:47:11
top coureur.

You can add messages only when you are logged in
Data is being loaded...

New players (496518)
07 Aug 20:57
Notz99
07 Aug 03:46

Right-sized
06 Aug 11:57

rctanRNevVwXYgZs
06 Aug 06:29

06 Aug 06:27

06 Aug 06:26

❤️ Ashley sent you a...
06 Aug 06:26

06 Aug 06:26

06 Aug 06:24

06 Aug 06:23

Ranking drivers
Nothing found.