Nakajima, Kazuki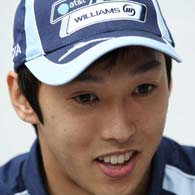 N | Kazuki Nakajima
B |

Japan, Okazaki
A | 35 (1985-01-11)
U | http://www.kazuki-nakajima.com/

More information
Kazuki Nakajima (中嶋 一貴, Nakajima Kazuki, born January 11, 1985 in Okazaki, Aichi, Japan) is a Formula One driver from Japan for the Williams-Toyota team. Prior to that he had been their test driver, as well as a competitor in the GP2 Series for the DAMS team.
Nakajima is the son of the retired Formula One driver Satoru Nakajima.
Pre-Formula One
Nakajima started his career in racing in 1996, when he started Karting. Three years later, he was crowned the Suzuka Formula ICA karting champion. After some impressive performances, Nakajima was picked up by Japanese car manufacturer Toyota as part of the corporation's Young Drivers Program.
His father had been backed by Toyota's arch-rivals Honda through his career. Nakajima hoped that by joining Toyota he would shield himself against any accusations that his father had promoted his career.
In 2002, Nakajima won a scholarship in Formula Toyota, which he became champion in a year later. He progressed onto Japanese Formula Three in 2004, winning two of the 20 races and finishing fifth in the Drivers' Championship.
Learn More at WikiPedia
Published under the
GNU
Free Documentation License
Add message

There are no messages posted yet.

You can add messages only when you are logged in
Data is being loaded...

New players (18634)
25 Sep 17:20

mvRQaboVBzDA
23 Sep 13:48

hard drive
21 Sep 11:55

BVYkThlRUFamXeS
19 Sep 04:14

Personal Loan Account
17 Sep 07:55

RycVXFUCb
12 Sep 02:53

Morocco
10 Sep 09:43

Handmade Steel Fish
09 Sep 21:53

SQL
04 Sep 04:22

Rustic Cotton Pizza
02 Sep 05:19

ZstJVXrCaM
Ranking drivers
Nothing found.