Heidfeld, Nick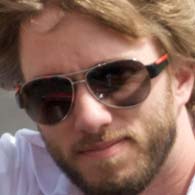 N | Nick Heidfeld
B |

Germany, Mönchengladbach
A | 45 (1977-05-10)
U | http://www.nick-heidfeld.de/

More information
Nick Lars Heidfeld, frequently referred to as Quick Nick, (born May 10, 1977 in Mönchengladbach, West Germany) is a German Formula One racing driver, who is currently driving for the BMW Sauber team.
Despite his recent success, Heidfeld is yet to win a race during his nine seasons in Formula One. This means that amongst the current drivers, he has had the most GP starts without standing at the top spot on the podium. Heidfeld has now started 150 races, so if he were to eventually win a race he would break the record, which is currently held by Rubens Barrichello, who claimed his first victory on his 123rd attempt. Heidfeld also currently holds another dubious record; he is the driver who has scored the highest number of world championship points without a Grand Prix win. He also holds the record for the most consecutive race finishes with his current ongoing tally of 28, as well as the most finishes in a season when he finished 18 races in the 2008 season. This record is tied with Tiago Monteiro's 18 finishes in the 2005 season.
Early life and career
Heidfeld was born in Mönchengladbach, Germany, on May 10, 1977, and began racing karts at the age of 11 in 1988. In 1994 he moved into the German Formula Ford series, gaining widespread attention by winning 8 of the 9 races to take the title that season. In 1995 he won the German International Formula Ford 1800 Championship, and came second in the Zetec Cup. This led to a drive in the German International Formula 3 championship for 1996, where he finished third overall, after taking 3 wins. The following year Heidfeld won the German F3 Championship, including a win at the prestigious Monaco event. In 1998, he won three races and was runner-up in the European Formula 3000 championship, with the West Junior Team. At the final race of the season he was demoted to the back of the grid from pole position, after his team used non-compliant fuel. He finished the race ninth and out of the points, losing the championship by seven points to Juan Pablo Montoya. During that season, he was also the official test driver for the McLaren-Mercedes Formula One team. In 1999, he won the International Formula 3000 Championship. that year he also took the official track record at the Goodwood Festival of Speed.
2000: Prost
Heidfeld was signed as a race driver for the Prost Grand Prix F1 team for the 2000 season, alongside Formula One veteran Jean Alesi. Heidfeld struggled with his new car and suffered a string of retirements, as well as colliding with his team mate on more than one occasion.
2001-2003: Sauber
He departed Prost at the end of that season, before signing a three-year contract with Sauber for 2001. He was partnered with then rookie driver Kimi Räikkönen. After the announcement of Mika Häkkinen's retirement, many thought that Heidfeld would replace him in the McLaren team, as he had outperformed Räikkönen over the year, including a podium position in the Brazilian Grand Prix. However, the McLaren seat went to Räikkönen, and Heidfeld stayed with Sauber for 2002 and 2003, where he raked up a small number of points finishes. In 2002 he outperformed another rookie team mate, Felipe Massa, but was then beaten by his more experienced fellow countryman, Heinz-Harald Frentzen, in 2003.
Learn More at WikiPedia
Published under the
GNU
Free Documentation License
Add message

|
kamals
|
2009-03-11 03:49:55
u best


You can add messages only when you are logged in
Data is being loaded...

New players (496518)
07 Aug 20:57
Notz99
07 Aug 03:46

Right-sized
06 Aug 11:57

rctanRNevVwXYgZs
06 Aug 06:29

06 Aug 06:27

06 Aug 06:26

❤️ Ashley sent you a...
06 Aug 06:26

06 Aug 06:26

06 Aug 06:24

06 Aug 06:23

Ranking drivers
Nothing found.