Rosberg, Nico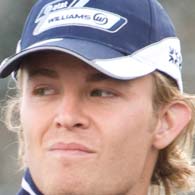 N | Nico Rosberg
B |

Germany,
A | 37 (1985-06-27)
U | http://www.nicorosberg.com/

More information
Nico Rosberg (born June 27, 1985) is a racing driver for the Williams Formula One team. He races under the German flag in Formula One, although he competed for Finland earlier in his career. He holds dual nationality from both countries.
Rosberg won the 2005 GP2 Series for the ART team, having raced in Formula Three Euroseries previously for his father's team.
Biography
The son of Finnish 1982 Formula One World Champion Keke Rosberg and his wife Sina, Nico Rosberg was born in Wiesbaden. He spent much of his youth in Monaco with his family, and still lives in the principality. Rosberg speaks fluent German, English, Italian and French; but only a little Finnish, though he is learning the language. In lower formulae drivers race under the nationality of the country that issued their racing licence. Rosberg competed under the Finnish and German flags at different times during his early career. In Formula One, as for all FIA world championships, a driver's nationality is defined by their passport. Rosberg races under the German flag in Formula One as of 2008.
1996-2004: Junior Formulae
Rosberg started out in karting in 1996, at the age of eleven, before moving up to German Formula BMW in 2002, where he won the title. His performances resulted in a move to drive for his father's team in Formula Three Euroseries, a combination of the several national Formula Three championships that had existed prior to its formation. Rosberg did well there, and stayed on for 2004.
Learn More at WikiPedia
Published under the
GNU
Free Documentation License
Add message

|
Duani
|
2010-03-14 15:51:37
Go get the sleep of Michael this year.


You can add messages only when you are logged in
Data is being loaded...

New players (496518)
07 Aug 20:57
Notz99
07 Aug 03:46

Right-sized
06 Aug 11:57

rctanRNevVwXYgZs
06 Aug 06:29

06 Aug 06:27

06 Aug 06:26

❤️ Ashley sent you a...
06 Aug 06:26

06 Aug 06:26

06 Aug 06:24

06 Aug 06:23

Ranking drivers
Nothing found.