Sutil, Adrian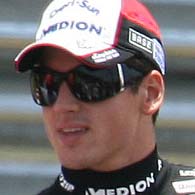 N | Adrian Sutil
B |

Germany, Starnberg
A | 39 (1983-01-11)
U | http://www.adrian-sutil.de/

More information
Adrian Sutil born January 11, 1983 in Starnberg) is a German Formula One racing driver.
Biography
Sutil is the son of professional musicians Monika, a German, and Jorge, a Uruguayan. A talented pianist, Sutil started karting at 14 before moving up to Swiss Formula Ford 1800 in 2002. He won all ten rounds of the season from pole and added five wins in the Formula Masters Austria championship. Sutil speaks fluent German, English, Spanish and a little Italian.
Formula BMW & Formula Three
When Sutil moved up to the Formula BMW ADAC championship in 2003 he finished in sixth place in the series, but with no wins. The following season he stepped up to the Formula 3 Euroseries with Colin Kolles' team. Although he scored only twice, the connection he made with Kolles would prove useful in the future. He moved to the ASM team at the final round of the year.
Sutil stayed with ASM for 2005 and was joined by British driver Lewis Hamilton. Hamilton won more races than Sutil, but the German was runner-up to Hamilton and the Briton's only serious competitor in the championship and at the prestigious Marlboro Masters of Formula Three at Zandvoort.
Sutil missed the last two rounds of the 2005 Euroseries after joining A1 Team Germany for the inaugural A1 Grand Prix series. He raced for them at three events in Portugal, Australia and Dubai, his best result being two twelfth places.
He spent 2006 racing in Japan and won the All-Japan Formula Three Championship. He showed a very strong performance all season. He also finished third in the Macau Formula Three Grand Prix and made a one-off appearance in Japanese Super GT.
Learn More at WikiPedia
Published under the
GNU
Free Documentation License
Add message

There are no messages posted yet.

You can add messages only when you are logged in
Data is being loaded...

New players (496518)
07 Aug 20:57
Notz99
07 Aug 03:46

Right-sized
06 Aug 11:57

rctanRNevVwXYgZs
06 Aug 06:29

06 Aug 06:27

06 Aug 06:26

❤️ Ashley sent you a...
06 Aug 06:26

06 Aug 06:26

06 Aug 06:24

06 Aug 06:23

Ranking drivers
Nothing found.