Piquet Jr., Nelson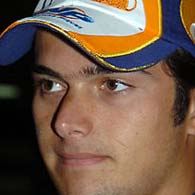 N | Nelson Piquet Jr.
B |

Germany, Heidelberg
A | 37 (1985-07-25)
U | http://nelsinhopiquet.com.br/

More information
Nelson Ângelo Tamsma Piquet Souto Maior (born July 25, 1985 in Heidelberg, Germany), also known as Nelson Piquet Junior or Nelsinho Piquet, is a Brazilian race car driver. He is the son of three-time Formula One world champion Nelson Piquet, one of Brazil's most successful F1 drivers. In the 2005 and 2006 seasons he raced in the GP2 Series, taking a win in Belgium in 2005 and claiming 2nd place in the series in 2006. He was signed as test driver for Renault Formula One team for the 2007 season, and was promoted to the race team for 2008. Piquet currently resides in Oxford, England.
Personal Details
His parents separated soon after he was born and he lived in Monaco with his Dutch mother Sylvia Tamsma until he was eight years old when he moved to live in Brazil with his father. "They kind of swapped me. My mother wanted me to get to know my father, she wanted me to know Brazil and the language, and she realised life in Brazil would be better for a child." He has two sisters, Kelly and Julia, and four brothers, Geraldo, Laszlo, Pedro and Marco. He lived in Brasilia and attended the American School of Brasilia until he was 16 years old when he decided to pursue his racing career full time.
Before F1
Piquet's racing career started in 1993 in Brazilian karting, where he would stay until 2001 when he moved to Formula Three Sudamericana. His father's wealth enabled him to race for his own team, a practice he continued until he left GP2 Series. He raced in part of the 2001 season there, staying for 2002 winning the championship with four races to go. In 2002 he also raced one race of Brazilian Formula Renault.
In 2003, Piquet moved to the UK where he joined the British Formula 3 Championship and formed the Piquet Sports team. He went on to finish the championship in 3rd place with six wins, five podiums and eight pole positions. A test with the Williams F1 team followed.
In 2004, Piquet won the British Formula 3 Championship. He became the youngest driver to have ever won the championship at 19 years and 2 months. He also did further running for Williams.
In 2005, Piquet took part in the A1 Grand Prix for A1 Team Brazil, winning both the Sprint and Main races at the first event of the season at Brands Hatch , as well as scoring a point for the fastest lap. He also drove for the HiTech/Piquet Sports in the GP2 Series, winning his first race at Spa Francorchamps in Belgium, and tested for the BAR-Honda Formula 1 team.
In 2006, Piquet gained second place in the championship to British driver Lewis Hamilton in his second year of GP2.
Learn More at WikiPedia
Published under the
GNU
Free Documentation License
Add message

There are no messages posted yet.

You can add messages only when you are logged in
Data is being loaded...

New players (496518)
07 Aug 20:57
Notz99
07 Aug 03:46

Right-sized
06 Aug 11:57

rctanRNevVwXYgZs
06 Aug 06:29

06 Aug 06:27

06 Aug 06:26

❤️ Ashley sent you a...
06 Aug 06:26

06 Aug 06:26

06 Aug 06:24

06 Aug 06:23

Ranking drivers
Nothing found.