Bourdais, Sébastien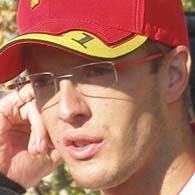 N | Sébastien Bourdais
B |

France, Le Mans
A | 40 (1979-02-28)
U | http://www.sebastien-bourdais.com/

More information
Sébastien Bourdais (born February 28, 1979 in Le Mans) is a French Formula One race car driver. He is one of the most successful drivers in the history of the Champ Car World Series, having won four successive championships from 2004 to 2007.
Born into a racing family (his father Patrick races in touring cars, hill climbs, and sports cars), Bourdais began his racing career at age 10 in karts. During the early 1990s, he competed in a variety of karting championships, winning the Maine Bretagne League in 1991 and the Cadet France championship in 1993. Bourdais was part of the winning Sologne Karting team which won the 1996 24 hour Le Mans kart race at the Circuit Alain Prost on a Merlin chassis with Atomic motors.
Learn More at WikiPedia
Published under the
GNU
Free Documentation License
Add message

|
|
2009-03-13 23:21:24
ALLEZ SEB

|
Fan-F1
|
2009-02-09 19:42:08
Bourdais confirmé en F1, c'est trop cool!

You can add messages only when you are logged in
Data is being loaded...

New players (18493)
17 Feb 09:17

HkLAthPBXR
14 Feb 08:00

Soft
14 Feb 01:02

driver
12 Feb 14:34

gmJSFarjbBXEy
10 Feb 16:50

cGThKYaOZFfRybUn
09 Feb 12:12

Keyboard
09 Feb 00:21

supply-chains
05 Feb 23:00

NOtFdmuPKUC
05 Feb 20:35

overriding
03 Feb 12:28

Towels
Ranking drivers
Nothing found.